Welcome to Wildwood!

  
Hello & thank you for visiting!  This website serves multiple purposes.  It is a tribute to our beloved Wildwood dogs, and provides information about our breeding program, but goes beyond giving recognition to our dogs only.  Posted here are breed-wide databases of published titles earned by all Bulldogs & Kuvaszok in AKC companion/performance events, as well as AKC titles awarded for civic achievements.  Databases are updated monthly, so check in often!
We hope you enjoy the photos & biographies of our dogs that we share here.  We also hope you enjoy the databases and join us in appreciating all the listed Bulldogs, Kuvaszok & their owners for their dedication to training & the honor their accomplishments bestow upon our treasured breeds.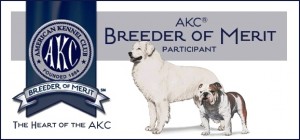 Wildwood meets & abides by AKC's Breeder of Merit criteria for Kuvaszok & Bulldogs
---