Hello!  I'm Bea Page.  My husband (Clay) and I live near Rome, GA on our ranch – Wildwood Acres.  We have enjoyed owning AKC registered Kuvaszok and Bulldogs since the 1990's.  We bred several litters under the kennel name of Wildwood, but we are no longer active in breeding.  We are not affiliated in any way with anyone else who uses the same kennel name, so please do not confuse us with "Wildwood" kennels in Texas or elsewhere, who intentionally produce and promote as desirable, nonstandard-colored as well as miniature-sized "bulldogs".  We have never partaken in or condoned those practices as we do not believe them to be ethical or in the best interests of the Bulldog breed.

With our first Bulldog (1996) and our first Kuvasz (1998) came instantaneous love and unwavering commitment to these very different, but equally wondrous breeds.  We are dedicated to doing our best to preserve their well-being and future viability by continually updating our education about both breeds and canines in general, and sharing our knowledge and experience.  We avidly support all endeavors aimed at maintenance/improvement in quality & health, and the overall betterment of these purebreds in soundness of body & mind, appropriate temperament, correct conformation, and demonstration of performance abilities.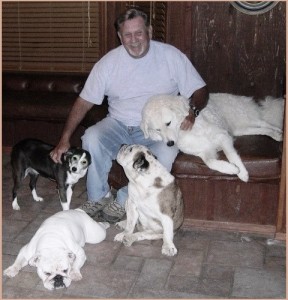 Clay enjoys all the dogs on a companionship level, and the dogs relish being with him.  Clay works full-time, but joins me in his off hours to help exercise the dogs & tend to their needs.  He's a great sport about babysitting those that don't go along with me to shows.

Like Clay, I adore the constant company of our dogs, but I've expanded that love into a passion for training & showing them in a variety of events.  Our dogs have earned AKC titles in conformation, obedience, agility, rally & lure coursing, as well as UKC conformation titles.
Clay & I are sincerely thankful for all that our fellow Kuvasz & Bulldog lovers do as breeders, owners & exhibitors to enhance the image & status of our beloved breeds.  We are so proud of and grateful to our own dogs for giving so much of themselves and contributing to outstanding Kuvasz and Bulldogs achievements, particularly in the sports & venues where these breeds are seldom seen.  To have multiple Bulldogs & Kuvasz in our AKC parent breed clubs' Halls of Fame for their excellence in multiple categories is something our dogs gifted us with that we shall always cherish.

Connie Townsend & Lynn Brady of Szumeria Kuvasz (AKC's 2012 Working Group Breeders of the Year) are our unexcelled mentors & dear friends.  Our wonderful working relationship led to co-breeding America's #7 show dog for 2012, as well as our co-owning and co-breeding Best in Show and Best in National Specialty Show winning Kuvasz.  We are also particularly appreciative of Cheryl Knapp of Sittingbullies Bulldogs, Tammy McAllister of Bulldacious Bulldogs, and Nancy Murray of Boudica's Bulldogs for their friendship, collaboration, and all they've done for the Bulldog breed.
Background:  Clay graduated from Florida State University with a Bachelor's degree in business & major in marketing.  He proudly served as an officer in the United States Marines and was a platoon leader in the Viet Nam war.  He is a businessman, with a healthy foundation in sales rep work for a variety of products, and he has owned multiple companies.  Clay currently owns & runs an aluminum fabricating business that specializes in ornamental fencing, railing & estate gates.  I have a Bachelor's degree in communicative disorders from the University of Central Florida, and a Master's degree in business administration from FTU.  My time is currently devoted to my husband, our home, our dogs (care, training & exhibiting) and occasional tasks for Clay's business.  My employment history includes the fields of education, disability claims adjudication, and business management.  Clay & I are members in good standing of the AKC parent club for the Kuvasz.  I have served the Kuvasz Club of America as: Executive Board Member, AKC Gazette Breed Columnist, Performance Columnist for the Kuvasz Quarterly, AKC Canine Good Citizen Evaluator at multiple KCA Specialties, and chair/member of numerous committees.  The KCA has honored me as the recipient of its Service Award and its AKC Outstanding Sportsmanship Award.  I am the current KCA Titles Reporter, and a member of the Performance Committee.  I also belong to the AKC parent club for the Bulldog.  I compile & maintain databases for AKC titles awarded to Bulldogs in companion/performance events & for civic achievements.  I am also a member of the BCA Hall of Fame/Gallery Committee.  Clay & I have been recognized by the American Kennel Club as Breeders of Merit for Kuvaszok & Bulldogs, and our parent breed clubs listed us in their Breeder Referral Directories during our years as active breeders.
We hope you enjoy the photos & biographies of our dogs, as well as the breed databases, that are shared here on our website.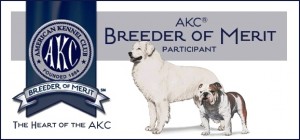 Wildwood meets & abides by AKC's Breeder of Merit criteria for Kuvaszok & Bulldogs