Welcome!  I'm Bea Page.  My husband, Clay, and I live at Wildwood Acres Ranch, about half way between Rome, GA and Centre, AL.  We took our kennel name – WILDWOOD – from the name of our ranch, which we purchased in 2000, and we have been using that kennel name since.  We are not affiliated with any other breeders who may also coincidentally use Wildwood as a primary kennel name.
With our first Bulldog (1996) and our first Kuvasz (1998) came instantaneous love and unwavering commitment to these very different, but equally wondrous breeds.  We are dedicated to doing our part to preserve their well-being and future via education and endeavors aimed at maintenance/improvement in quality, health, and soundness in both mind & body.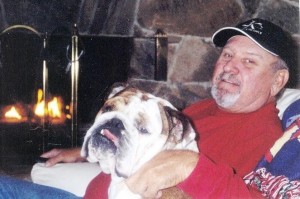 Clay enjoys all the dogs on a companionship level, and the dogs relish spending time with him - at his feet during dinner, by his side on the sofa for t.v. time, in the passenger seat of his truck for outings, and in our bed to settle down for the night!  Clay works full-time, but joins me after hours to help exercise the dogs & tend to their needs.  He's a great sport about babysitting those that don't go along with me to shows.     
Like Clay, I adore the constant company of our dogs, but have expanded that love into a passion for training and showing them in a variety of AKC events…resulting in titles in conformation, obedience, agility, rally & coursing.  We are blessed and grateful to have Lynn Brady & Connie Townsend of Szumeria Kuvasz (AKC's 2012 Working Group Breeders of the Year) as unexcelled mentors and friends, which has led to our co-breeding America's #7 show dog for 2012, as well as our co-owning and co-breeding Best in Show and Best in National Specialty Show winners.   We are also immensely appreciative of our friendship & the guidance we've received from Cheryl Knapp of Sittingbullies Bulldogs.  At the Group level, I have won and placed as a Kuvasz Owner/Handler, and am also privileged to have placed as a Breeder/Owner/Handler.  Our dogs have attained some extremely impressive wins, breed firsts, and unsurpassed accomplishments.  We take great pride in holding them up as outstanding examples of what can be achieved by Kuvasz and Bulldogs … particularly in obedience, agility & tracking, where these breeds are seldom seen.
Background:  Clay majored in marketing, and graduated from FSU with a Bachelor's degree in business.  He served as an officer in the Marines and was a platoon leader in the Viet Nam war.  He is a businessman who has owned multiple companies in addition to working as a sales rep.  I have a Bachelor's degree in communicative disorders, and a Master's degree in business administration.  My time is currently devoted to my husband, our home & kennel operation (to include training & exhibiting our dogs).  My employment history includes the fields of education, disability claims adjudication, and business management.  When we resided in Florida, I was a member of the Seminole Dog Fanciers Association, and chaired multiple club obedience trials.  Clay & I are members in good standing of the AKC parent club for the Kuvasz.  I have served the Kuvasz Club of America as: Executive Board Member, AKC Gazette Breed Columnist, Performance Columnist for the Kuvasz Quarterly, AKC Registered Canine Good Citizen Evaluator at multiple KCA Specialties, chair/member of numerous committees (Awards, National Specialty Show, Annual Elections Nominations) and contributing author for The AKC Complete Dog Book, 21st Edition.  The KCA has honored me as the recipient of its Service Award and its AKC Outstanding Sportsmanship Award.  I am the current KCA Titles Reporter, and a member of the Performance Committee.  I also belong to the AKC parent club for the Bulldog, and am a designated representative of the Bulldog Club of America for the AKC Companion Events E-Group.  I'm listed in the Breeders' Directory for The Kuvasz Club of America, and The Bulldog Club of America.  Clay & I are proud to be recognized by the American Kennel Club as Breeders of Merit for Kuvasz & Bulldogs. 
We hope you enjoy the photos and biographies of our dogs that are shared here on our website.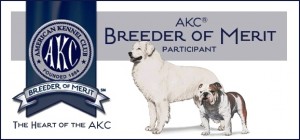 Wildwood meets & abides by AKC's Breeder of Merit criteria for Kuvaszok & Bulldogs