Hall of Fame




LADY BERTHA OF PAGE MANOR


UCDX/CDX  MX  AXJ  CGC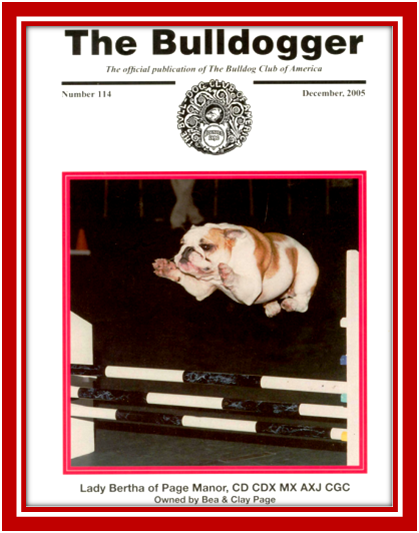 Bulldog Club of America's HALL of FAME for Companion Events 
The first Bulldog to earn Open level AKC titles in Obedience + Standard Agility + Jumpers Agility.
She held the record of the ONLY Bulldog with these 3 AKC Open level titles from 10/7/2000 – 11/6/2010.
Our Moxie became the 2nd Bulldog with all 3, and Moxie's daughter, Tipsy, became the 3rd with all 3!
The first Bulldog to earn a Master level AKC agility title
The first Bulldog to earn a Jumper with Weaves agility title
The first Bulldog to hold Excellent level titles in both STD & JWW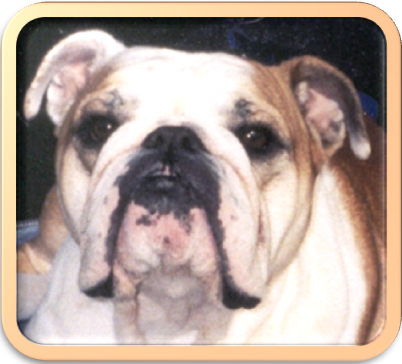 OBEDIENCE
AKC & UKC Companion Dog Excellent (CDX)
Class winner & placer in Novice & Open level All Breed Obedience
High in Trial winner
Team Obedience First place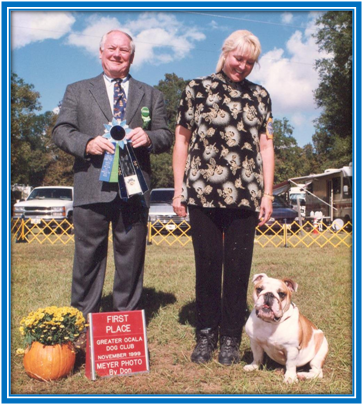 AGILITY
AKC Master Agility Excellent (MX)
AKC Agility Excellent Jumper (AXJ)
Class winner & placer in all 3 levels of agility
Multiple #1 in Class National Rankings as published in Front & Finish
Bulldog Club of America's Hall of Fame for Companion Events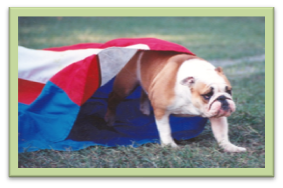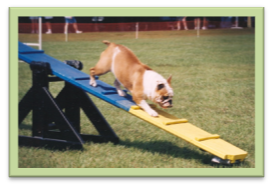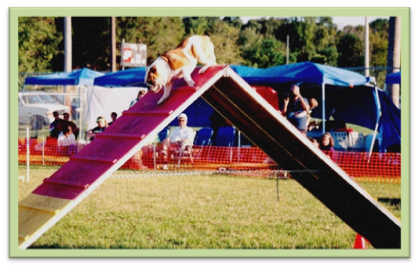 CIVIC ACHIEVEMENTS
AKC Canine Good Citizen (CGC)
VERSATILITY
Titled in obedience, standard agility, jumpers agility
Bertha's television appearances:
 1) Animal Planet's Petsburg, USA
(demo dog for a segment on homemade/improvised agility practice equipment)
2) Animal Planet's Petsburg, USA
(doggy fashion model – see photo below)
3) Ask the Vet
(episode on breed information about the Bulldog)

Bertha was my Novice A agility dog who went all the way to the first Master title in her breed.
Her agility career was during the years before the Preferred classes were implemented,
so she always jumped full height for her size, which meant 16" tall jumps.
The height of the jumps was higher than her own height at the withers.
She often won or placed in her class over svelte and speedy typical agility breeds.
She was the darling of our lives & the reason we fell in love with the Bulldog breed.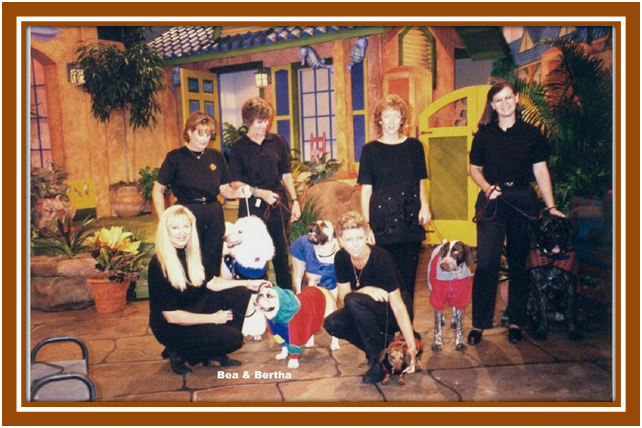 Bea & Bertha & friends on the set of Animal Planet's Petsburgh, USA show
Owned by Bea & Clay Page   .   Bred by Vickie Jenkins
DOB: 6/28/1996