UKC Multiple Group Winning & Placing Champion
Multiple AKC Beginner Puppy Group Winning


WILDWOOD LITTLE MISS SURE SHOT




CD

 

BN  RA  NJP



.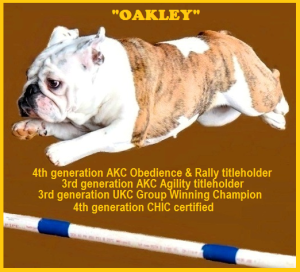 .
Oakley is out of our 2nd generation BCA Hall of Fame performance girl, Tipsy.
She was sired by Marshall from Bulldacious Bulldogs in Canada:
(Can) MBIS/MBISS/BPISS & (Am) Multiple Group Placing
(Can) GCH EX/(Am) GCH Bulldacious Sharp Shooter
(Can) RN CGN   (Am) BN RN CGC   TT TDI HIC RATI
Thank you, Tammy McAllister!
CONFORMATION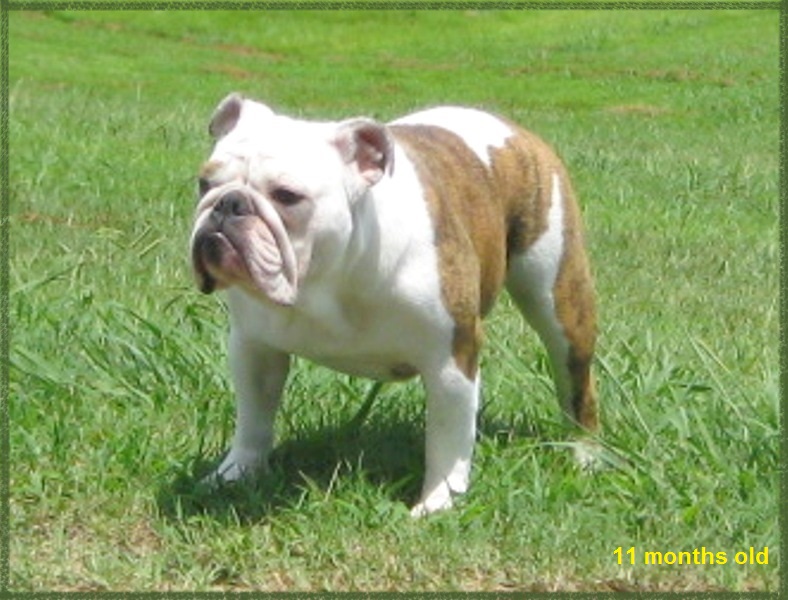 Multiple UKC Group Winner & Champion at 6 months of age
Third generation UKC Champion & Group Winner 
Part-way to a UKC Grand CH
Multiple AKC Beginner Puppy Group Winner with wins at 4 & 5 months of age
OBEDIENCE
AKC Companion Dog (CD) title
AKC Beginner Novice (BN) obedience title with a 3rd place at 7 months old
4th generation Obedience titleholder on her dam's side & 2nd generation titleholder on her sire's side
RALLY
AKC Rally Advanced (RA) title
Earned her AKC Rally Novice (RN) title with a 2nd place in all breed shows at 6 months old
One of only two Bulldogs nationwide to qualify at the Novice level for the 2016 AKC Rally National Championship
4th generation Rally titleholder on her dam's side & 2nd generation titleholder on her sire's side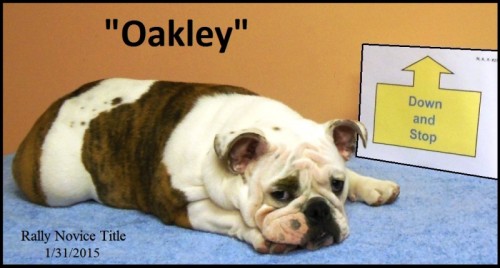 ↑ 6 months old ↑

AGILITY
AKC Novice Jumper Preferred (NJP) title
1 Q toward Open Jumper Preferred title
Multiple Class Winner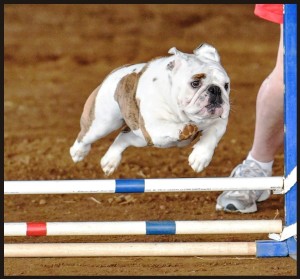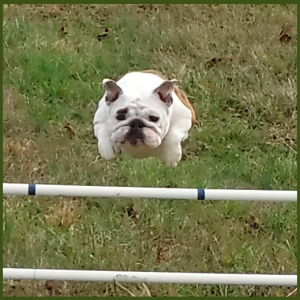 VERSATILITY
Third generation Breed Champion & Group Winner in UKC Conformation
Multiple Beginner Puppy Group Winner in AKC Conformation
4th generation titleholder in AKC Obedience
4th generation titleholder in AKC Rally
3rd generation titleholder in AKC Agility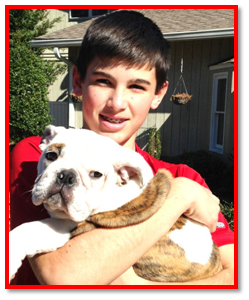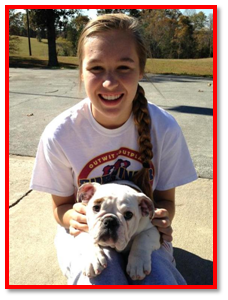 ↑  15 weeks old ↑
HEALTH TEST CLEARANCES
Heart – OFA Normal
Patellas – OFA Normal
Trachea – OFA Normal
Thyroid – OFA Normal
CHIC#108459
Click/tap here to view Oakley's OFA page

↓ 12 weeks old ↓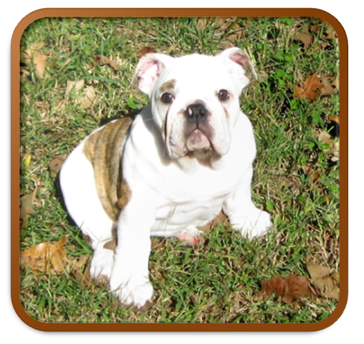 ↓ 2 weeks old ↓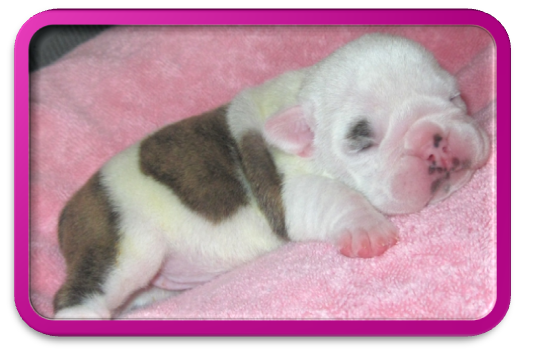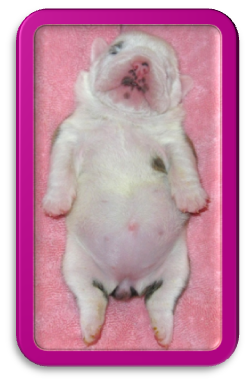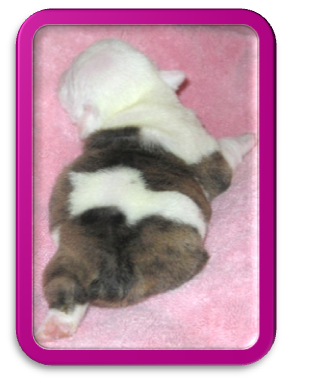 The United Kennel Club (UKC) limits names for dogs to 30 characters, whereas the American Kennel Club (AKC)
allows longer names, so a dog's UKC name may differ from its AKC name.  Oakley's name is exactly 30 characters,
so she was registered as Wildwood Little Miss Sure Shot in both registries.  Oakley's registered names with titles:
AKC – Wildwood Little Miss Sure Shot CD BN RA NJP
UKC – CH Wildwood Little Miss Sure Shot
Owned by Bea & Clay Page/Tammy & Amanda McAllister   .   Bred by Bea & Clay Page/Tiew & Ron Honig
DOB: 7/26/2014          Pedigree