HALL OF FAME
UKC Group Winning/Multiple Group Placing Grand Champion


WILDWOOD DELIGHTFUL INTOXICATION


CDX BN RE AXP AJP CAX BCAT

On 2/22/2014, Tipsy became eligible for the Bulldog Club of America's Hall of Fame for Companion Events by earning her first excellent level AKC agility title.
She's a second generation Hall of Famer for excellence in performance, and a second generation UKC Champion & Group One winner.

Out of our BCA Hall of Fame performance girl, Moxie, by Group Winning CH Cherokee Collins Reiver
.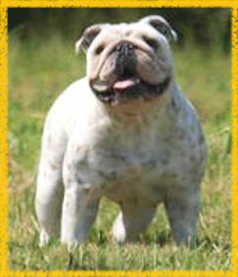 .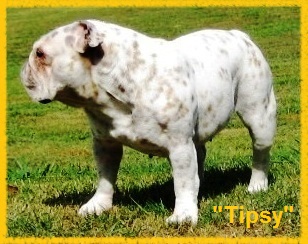 .
CONFORMATION
UKC Grand Champion
UKC Group Winner & Multiple Group Placer
America's #1 Ranked UKC Bulldog for 2015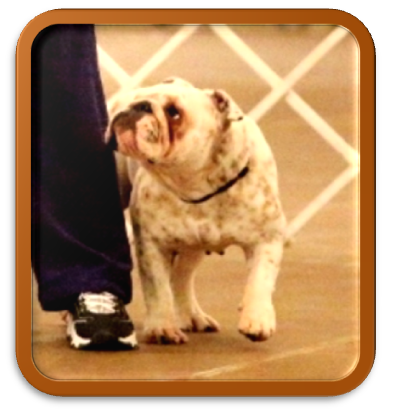 OBEDIENCE
AKC Companion Dog Excellent (CDX) title
Class winner & placer for CDX legs
Placements for all 3 CD legs in all breed competition
Highest Scoring Non-Sporting Breed Dog in Trial
AKC Beginner Novice (BN) obedience title
RALLY
AKC Rally Excellent (RE) title
Perfect score & multiple placements in Rally

AGILITY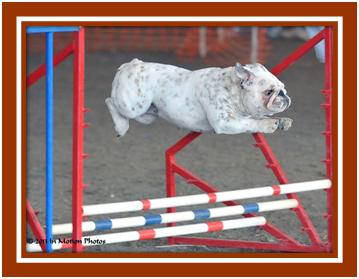 AKC Agility Excellent Preferred (AXP) title
AKC Agility Excellent Jumper Preferred (AJP) title
   Class Winner & Placer in both Standard & Jumpers Agility
Eight Q's toward an AKC Master Excellent Preferred title & nine Q's toward a Master Jumper Preferred title
Multiple qualifier for Agility National Invitational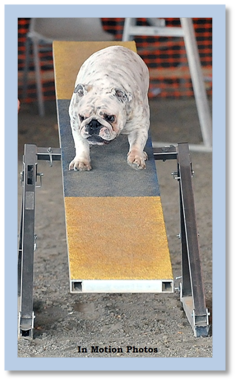 COURSING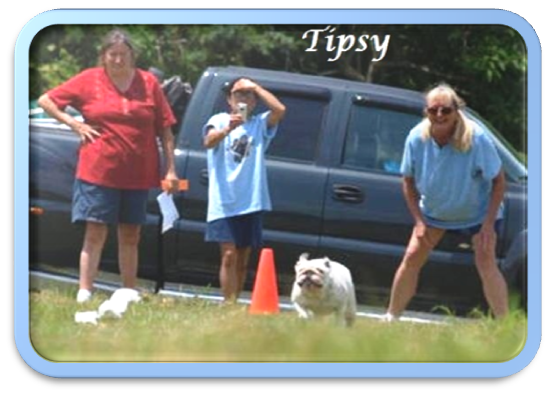 Coursing Ability Excellent (CAX) title.
Tipsy & her dam, Moxie, both hold the highest (excellent) level title in AKC Coursing Ability!
Click/tap here to view video of Tipsy running in a Coursing Ability Test.
FAST CAT BCAT title.

VERSATILITY
UKC Grand Champion
Second generation UKC Champion
Second generation Bulldog Club of America Hall of Famer
Third generation Titleholder in AKC Obedience & Rally
Second generation Titleholder in AKC Standard Agility, Jumpers Agility & Lure Coursing
Third of only 4 Bulldogs ever to hold Open level titles in AKC Obedience + Standard Agility + Jumpers Agility
Producer of multiple UKC champions & offspring with awards from the AKC, UKC and/or CKC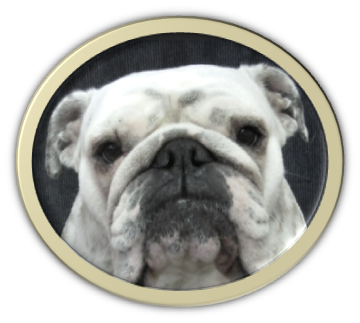 HEALTH TEST CLEARANCES
Patellas – OFA Normal
Heart – OFA Normal
Thyroid – OFA Normal
Trachea – OFA Normal for Tracheal Hypoplasia (TLR =/>2.0)
Eyes – CERF Normal (2012) & OFA listed
Elbows – OFA Normal
CHIC #85434
Platinum level BCA Health Award Ambassador
  Click/tap here to view Tipsy's OFA page
BREEDING
2015 – Tipsy was bred to Jesse:
Group Winning & Multiple Group Placing GCHB Boudica's I Am The Bandit JesseJames CGCA TDI TT
Jesse (also called JJ) is from California and is an AKC Bronze level Grand Champion
OFA Normal for Trachea, Heart, Patellas, Thyroid, Eyes, Elbows, Hips (good), Hyperuricosuria & Cystinuria
.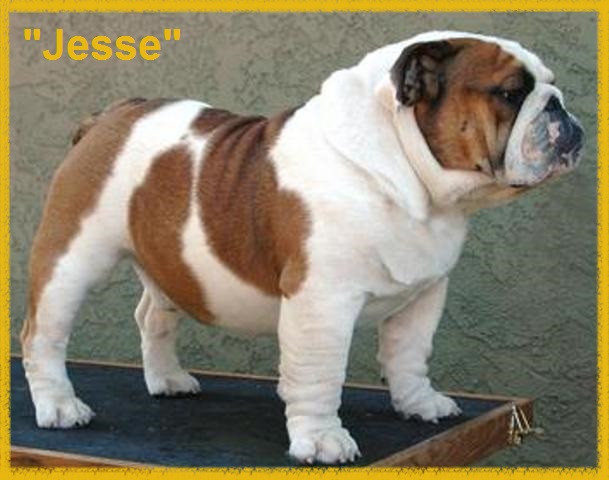 .  .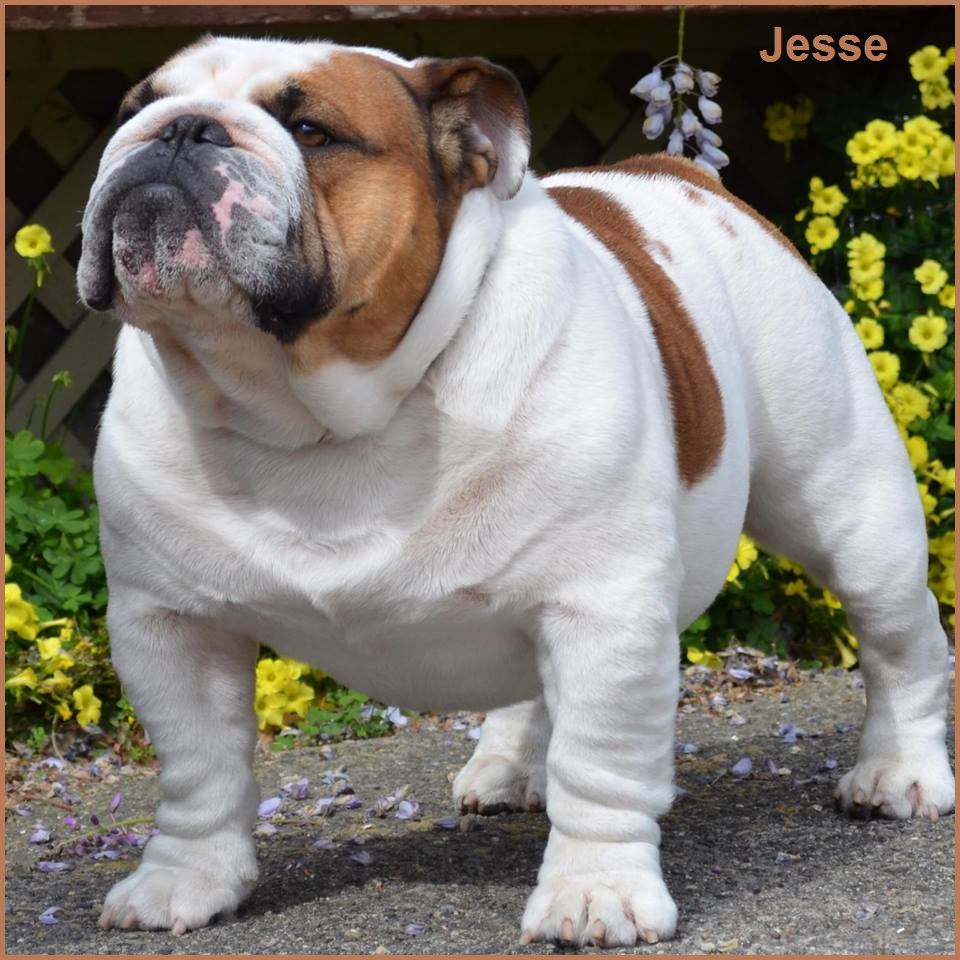 .
Stud dog, Jesse.  Thank you, Nancy Murray/Boudica's Bulldogs.
Click here to view Jesse's OFA webpage
Pups arrived on 10/13/15

2014 – Tipsy was bred to Marshall:
Multiple Group Placing GCH Bulldacious Sharp Shooter BN RN CGC
Marshall – Canada's #1 Bulldog for 2012 + #5 Non-Sporting dog.  Known in Canada as:
MBIS MBISS BPISS CAN GCHEX/AM GCH Bulldacious Sharp Shooter BN CKC/AKC RN CGN/CGC HIC TT TDI RATI
OFA Normal for Trachea, Heart, Patellas, Thyroid, Eyes, Elbows, Hips (fair) & Hyperuricosuria
.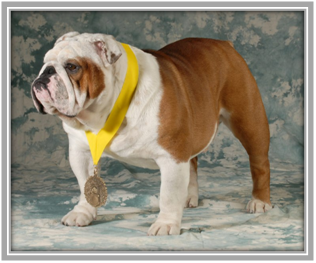 .  .
.
Stud dog, Marshall.  Thank you, Tammy McAllister/Bulldacious Bulldogs.
Click here to view Marshall's OFA page
Pups arrived on 7/26/14

Tipsy as a puppy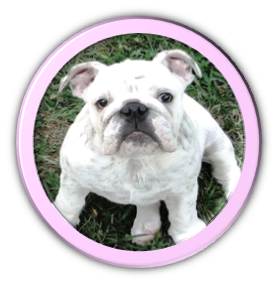 The United Kennel Club (UKC) limits dogs' names to 30 characters, whereas the American Kennel Club (AKC) allows
longer names, so a dog's UKC name may differ from its AKC name.  Tipsy's registered names with titles:
AKC – Wildwood Delightful Intoxication CDX BN RE AXP AJP CAX BCAT
UKC – GRCH Wildwood Delightful Intoxicant
Bred & Owned by Bea & Clay Page
DOB: 3/9/10    Pedigree