CH Szumeria's Wildwood Ruby Red Dzrt, NJP  RN  CGC (Jello)
Jello is our Ruby's daughter
Born 6/17/02
Conformation
AKC Champion
Finished from the Bred By Exhibitor Class
Agility
AKC Novice Jumper Preferred (NJP)
All 3 legs with Class placements
First Kuvasz BREEDER/OWNER/HANDLED to an Agility title  
Obedience and/or Rally
AKC Rally Novice (RN)
Class placer
Versatility
Titled in Breed, Agility & Rally
Temperament
AKC Canine Good Citizen (CGC)
Health
OFA Good Hips
OFA Normal Patellas
OFA Normal Thyroid
PRA Normal (both parents tested & have OFA normal results)
DM Normal (both parents tested & have OFA normal results)
CERF (2008)
CHIC #44311 
See Jello's OFA health testing page at:
http://www.offa.org/display.html?appnum=1147109#animal
Breeding
Jello was spayed and never bred.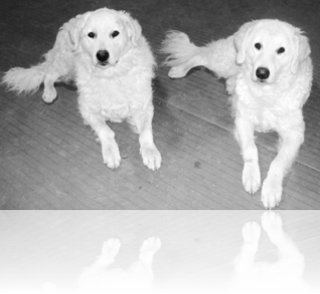 Jello & dam, Ruby
You may have noticed that Jello does not have a clearance for elbows.  Her OFA elbow evaluation came back as Degenerative Joint Disease Unilateral Grade I Elbow Right.  This means she has mild dysplasia in her right elbow only.  Her left elbow was found to be normal. 
As a puppy, Jello was diagnosed with Hypertrophic Osteodystrophy (HOD) which caused her limbs to become deformed.   She was very painful for months, could barely move around, and we were afraid we might lose her because the disease can be fatal or even make euthanasia the kindest option.  We toughed it out together, though, and nursed her along with rounds of antibiotics and painkillers/anti-inflammatories.  We made her move some – even though she didn't want to – since we were told that keeping HOD afflicted pups mobile may be crucial to their recovery.  Eventually she pulled through and regained normal appearance.  The cause of HOD is unknown, but the disease affects the long bones, so it remains unclear what role HOD may have played in Jello's elbow dysplasia (ED) assessment. 
We opted not to breed her because of the OFA evaluation of elbow dysplasia.  She was never lame again after beating HOD, and went on to easily earn her AKC Breed Championship at 16 mo. of age, an Agility Title at 2 ½ yrs. of age, and a Rally Novice title at a little over 4 yrs. of age.  If it weren't for radiographic findings, we would not have known Jello had ED.   There were and still are no outward signs.   Jello's elbows were x-rayed in 2005, and again almost 3 years later.  There was no worsening, and no surgical intervention.  She is naturally pain-free, still runs like the wind, and is a fully active, spirited & happy veteran.
Owners: Bea & Clay Page 
Breeders: L Brady/C Townsend/B Page