THE BREED'S MOST ALL-AROUND ACCOMPLISHED/VERSATILE CHAMPION
HALL OF FAME
Multiple Group Placing & High in Trial Winning
HOF

C

H SZUMERIA'S WILDWOOD PRETTY PENNY




VCD2 BN GN RAE2 MXP3 MXPB MJP CGC TT & Therapy Dog


Kuvasz Club of America HOF – Agility, Versatility & Rally
KCA Outstanding Achievement Award – Obedience
KCA Performance Award – Tracking & Therapy
Multiple Top Kuvasz of the Year in Versatility 
Moola is out of our Penny by our Legend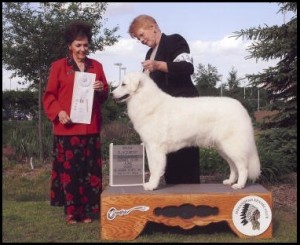 Judge Mrs. Jean Fournier   *   Presented by Lynn Brady
CONFORMATION
AKC Champion
Multiple Group Placer
Multiple Top 15 Kuvasz (2006 & 2011)
OBEDIENCE
AKC Companion Dog Excellent (CDX)
AKC Graduate Novice (GN) – First GN titled Kuvasz
AKC Beginner Novice  (BN) – First BN titled Kuvasz
Class winner & placer in Obedience
Kuvasz Club of America's Obedience Outstanding Achievement Award (OOAA)

RALLY
AKC Rally Advanced Excellent 2 (RAE2) – First/Only RAE2 Kuvasz
Class winner & placer in Rally
Kuvasz Club of America's Rally Hall of Fame

AGILITY
Kuvasz Club of America's Agility Hall of Fame
The only Kuvasz Qualifier for both the 2012 & 2013 AKC/Eukanuba National Championship Agility Invitational
AKC Master Excellent Preferred 3 (MXP3) title
AKC Master Excellent Preferred Bronze (MXPB) title
AKC Master Agility Jumper Preferred (MJP) title
Class winner & placer in Agility
The 2nd of only 3 multi-generation agility titled Kuvasz –
(Moola & her sister, Angel, are 2nd generation & Splash – Angel's daughter – is 3rd generation)
#1 Ranked Kuvasz for 2010 – 2013
Kuvasz Club of America's Agility Standard Agility Performance Award (SAPA)
Kuvasz Club of America's Jumpers Agility Performance Award (JAPA)
The breed's only second generation SAPA/JAPA awards recipient
Kuvasz Club of America's Standard Agility Outstanding Achievement Award (SAOAA)
Kuvasz Club of America's Jumpers Agility Outstanding Achievement Award (JAOAA)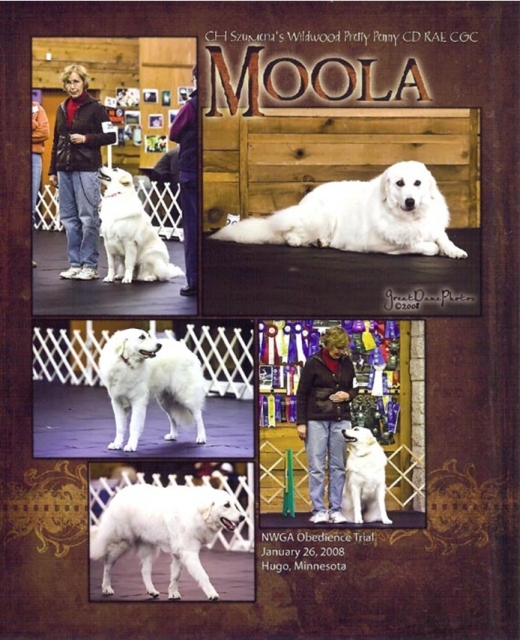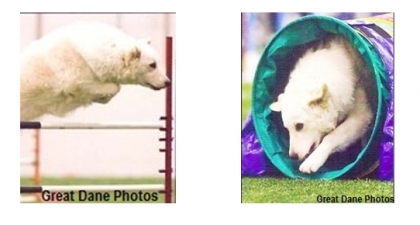 TRACKING
AKC Tracking Dog (TD) title
Kuvasz Club of America's Tracking Performance Award (TPA)

VERSATILITY
Kuvasz Club of America's Versatility Hall of Fame
HTitleholder in AKC Breed, Obedience, Standard Agility, Jumpers Agility, Tracking & Rally
Kuvasz Club of America's Versatility Performance Award (VPA)
Kuvasz Club of America's Versatility Outstanding Achievement Award (VOAA)
Multiple Kuvasz Club of America's Top Kuvasz of the Year in Versatility (2007, 2010, 2011)
The ONLY champion Kuvasz to hold an AKC Versatile Companion Dog 2 (VCD2) title  
CIVIC ACHIEVEMENTS
Passed American Temperament Test Society testing (TT)
AKC Canine Good Citizen (CGC)
Pet Partner Therapy Dog
Visits with the elderly
KCA Therapy Performance Award (ThPA)
HEALTH CLEARANCES
OFA Excellent Hips
OFA Normal Elbows
OFA Normal Thyroid
OFA Normal Hearing
OFA Normal Cardiac
OFA Normal PRA
CHIC Certified #42345
Click here to see Moola's OFA health testing page
Moola – another wonderful example of the success in multiple sports that runs in her family!
Like her parents (Legend & Penny) and her sister (Angel), Moola earned titles in breed &
multiple performance events.  She was our first tracking titled dog & our first VCD titled dog!
Owner, Connie Townsend, did an amazing job & Moola loved to work for her during her active years.
Born 7/24/05
Bred & Owned by Connie Townsend/Lynn Brady/Bea & Clay Page
Handled in Performance by Connie Townsend
Homed with Will Murphy after retirement