THE TOP WINNING KUVASZ IN HISTORY! 
Multiple Bests in Show


Multiple Bests in National Specialty Show


Gold Grand Champion
HALL OF FAME
HOF MBIS/MBISS GCHG SZUMERIA'S WILDWOOD SILVER SIX PENCE CGC


Pet Partner Therapy Dog




Kuvasz Club of America HOF – Conformation




KCA Performance Award – Versatility



The only TOP TEN Kuvasz amongst ALL BREEDS ever!
Out of our Penny, Tanner is the 2nd of her 3 Best in Show winning offspring!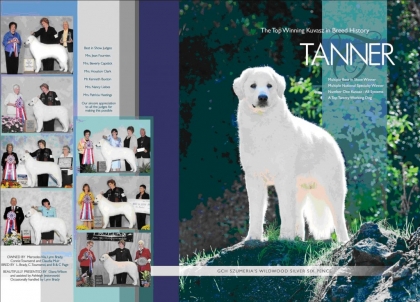 Tanner – Dog News magazine's cover story – December 17, 2010 issue
CONFORMATION
2016 – Tanner, now a veteran, was brought out of retirement for the KCA National Specialty & weekend of All-Breed shows.
He won his National Specialty for the seventh time & earned his 56th All-Breed Best in Show!
Tanner was inducted into the Kuvasz Club of America's Conformation Hall of Fame
2015 – Tanner was brought out of retirement for the National Specialty weekend & earned his 55th All-Breed Best in Show!
2014 – Tanner came out of retirement for the Kuvasz National Specialty & won – for the 6th year in a row!
2013 – Tanner was retired in May after winning the Kuvasz National Specialty for the 5th time.
Even though he showed for less than half the year, he finished 2013 as the #1 Kuvasz All Breed!  
2012 – America's #1 Kuvasz + #2 Working Breed + #7 amongst all AKC show dogs
2011 – #1 Kuvasz + #2 Working Breed + #9 amongst All Breeds of show dogs in America!  A Kuvasz FIRST!
2010 – Became the only Kuvasz ever to finish the year in the Working Group Top Ten (Show Sight system)
Multiple Best in Show Winner (56) to include Multiple Back-to-Back BIS wins
Multiple Best in National Specialty Show Winner (2009, 2010, 2011, 2012, 2013, 2014 & 2016)
Multiple #1 Kuvasz of the Year All Systems Rankings (2009, 2010, 2011, 2012)
Multiple Westminster Kennel Club Wins – Best of Breed (2010, 2011, 2012, 2013) & Group Placer (2011)
Top Winning Kuvasz ever at AKC/Eukanuba National Championship with:
BOB & Best Bred By Exhibitor (2009 thru 2012) + 2012 Group Two & BBE G3
National Specialty WD, BW, BBE & BB from the Puppy Class (2009)
The breed's first Grand Champion
The breed's first/only Gold level Grand Champion
Over two hundred Group Firsts
Kuvasz Club of America's Conformation Performance Award (CPA)
Kuvasz Club of America's Conformation Outstanding Achievement Award (COAA)
Kuvasz Club of America's Conformation Hall of Fame


Judge Mrs. Lorraine Boutwell   Breeder/Owner/Handled to his 55th BIS by Lynn Brady

CIVIC ACHIEVEMENTS
AKC S.T.A.R. puppy
AKC Canine Good Citizen (CGC)
Pet Partners Therapy Dog

VERSATILITY
KCA Top Kuvasz of The Year in Versatility (2013)
KCA Versatility Performance Award (VPA)
Therapy Dog registered with Pet Partners
HEALTH TEST CLEARANCES
OFA Normal Hips (Excellent rating)
OFA Normal Elbows
OFA Normal Thyroid
OFA Normal Cardiac
OFA Normal PRA
CERF Normal (2009)
CERF Normal (2009)Tanner, along with his dam, Penny, are duo OFA Champions of Health for June 2011
See Tanner's OFA health testing page  &  See Tanner's OFA Champion of Health page
Everything a breeder aims for has been realized in this beautiful boy!!!  His health clearances, lovely temperament, and soundness in structure & movement are every bit as important to us as his outstanding conformation to the AKC breed standard.  We could not be happier with the results.  We are so proud to have co-bred this exquisite Kuvasz with Szumeria, and we've been awed to watch him soar to the TOP!  The many judges and Kuvaszers who have recognized Tanner's exceptional quality are immensely appreciated.  Our deepest gratitude goes to Diana Wilson & Lynn Brady for so beautifully presenting Tanner for all his wins.  Special thanks & congratulations to Tanner's owners.

Born 8/3/08
Bred by Bea & Clay Page/Lynn Brady/Connie Townsend
Owned by Mercedes Vila/Lynn Brady/Connie Townsend/Claudia Muir
Homed at Szumeria