8/15/2015 – Jack completed his Rally Advanced title with another placement in All-Breed competition!
Read more
7/26/2015
At 8 1/2 years of age, Moxie went UKC Reserve Best in Show
her second weekend out, and is closing in on her Champion title!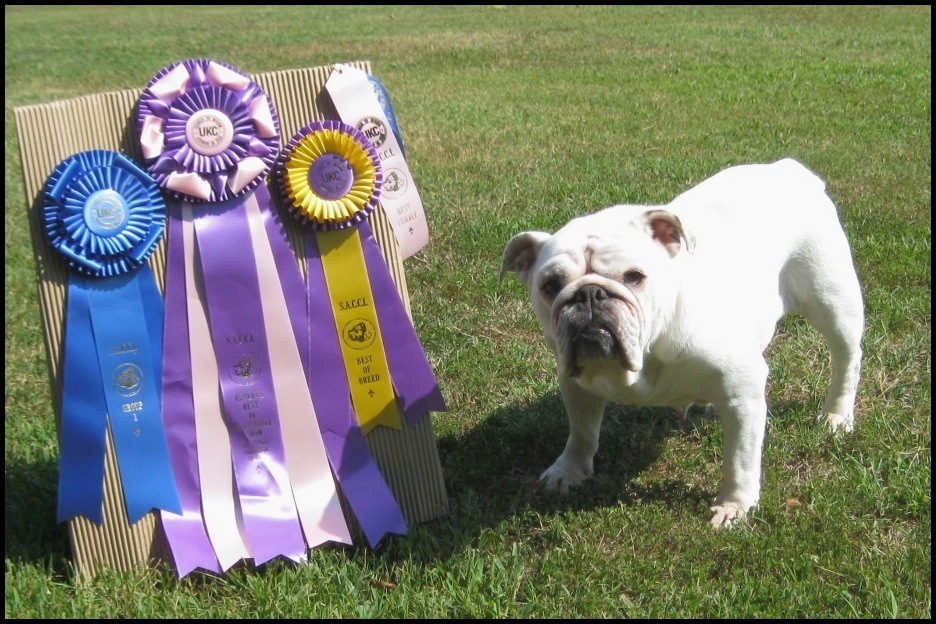 Read more
6/27/2015 – Moxie's litter-brother, Gabe, completed his AKC breed championship, and is now:
AM CAN & INT CH SITTINGBULLIES GLAD TIDINGS UD RE OAP NJP CA NAC TN-N RATN RATI THD HIC CGC CAN CD DD
Congratulations to Breeder/Owner/Handler, Cheryl Knapp!
Read more
6/13/2015 – Congratulations to Tiew Honig for showing her boys to AKC Rally titles.  Rocky completed his Rally Advanced (RA) title and Hopsing completed his Rally Novice (RN) title.
Read more
5/22 – 23
Jack completed his AKC Novice Jumper with Weaves title, and Tipsy picked up her second qualifying score in Master Jumper Preferred agility.
Read more
5/15 – 17
An extremely fun weekend with wonderful results at UKC shows for Tiew & me, made all the more
fun
when our GSP & NT friends from Texas showed up and added to the camaraderie.

Tiew's & my combined results for the 6 shows:

Regular classes: Six BOB's, one Group first, and five additional Group placements!
Altered classes: Six BOB's, six Group firsts, four Reserve Bests & one BEST IN MULTI-BREED SHOW!!!

CH Tipsy is now 4/5 of the way to her Grand Champion title!

CH Hopsing is now 2/5 of the way to his Grand Champion title!

Jack (who is neutered) took five Altered BOB's, five Altered Group 1's, and four

Altered Reserve Bests in Multi-Breed Show!!! Plus, he is now a new UKC Altered Champion!

Rocky (also neutered) got an Altered BOB, Altered Group 1, and Altered Best in Multi-Breed Show!!!!
Huge congrats to Tiew!  He is also now part-way to his UKC Altered Championship!

Many thanks to Audrey & Emily for all the help!

Read more
4/30 – 5/3
Tanner came out of retirement for the Kuvasz National Specialty weekend.  He was awarded Select Dog at the Specialty, and then at the all-breed show the next day, he was awarded his 55th BIS!!!  The Specialty was won by Pandur – one of our Legend's handsome grandsons!  And Legend's great grandson, Zac, became a new champion with three 5 point majors!  Congrats to all!
Read more
4/24 – 25
Tipsy & her son, Hopsing, earned their UKC breed champion titles!
Read more
4/17-18
A fun & productive agility weekend with Tipsy earning her first Q at the Master level (in Preferred JWW) & Jack picking up his second Q in Novice Preferred JWW.
Read more
3/14
Oakley completed her AKC Beginner Novice (BN) obedience title & also got  3rd place.  At just 7 months of age, she is now:
Multiple UKC Group Winning/Multiple AKC Beginner Puppy Group Winning
UCH Wildwood Little Miss Sure Shot BN RN
Read more